FG DIRECTS TERTIARY INSTITUTION TO RESUME SESSION THROUGH ONLINE TEACHING
The Federal Government has directed all Tertiary Institutions in the country to resume Academic Session by organisingonline teaching for Students.
The Minister of Education, Mallam Adamu Adamu gave the directive on Thursday during an opened talks with 237 Vice Chancellors, Rectors and Provosts on how to reopen using virtual learning.
All Institutions have been shut for almost 2 weeks now to prevent the spread of Coronavirus pandemic in the country.
Unsure of how soon the Coronavirus pandemic will end, the minister directed all universities, polytechnics and colleges of education to activate virtual learning environment to enable students continue their studies through digital devices.
He noted that, although the Academic Staff Union of Universities (ASUU) is on strike, government will do its best to resolve the labour crisis.
Adamu, in a teleconference meeting which lasted four and half hours with the Vice Chancellors and other heads of tertiary institutions from his home in Abuja, maintained that the Federal Government, cannot afford to shut schools for a long time.
He said he called the meeting to find solutions to the challenges posed to the nation's school calendar by Coronavirus Disease (COVID-19).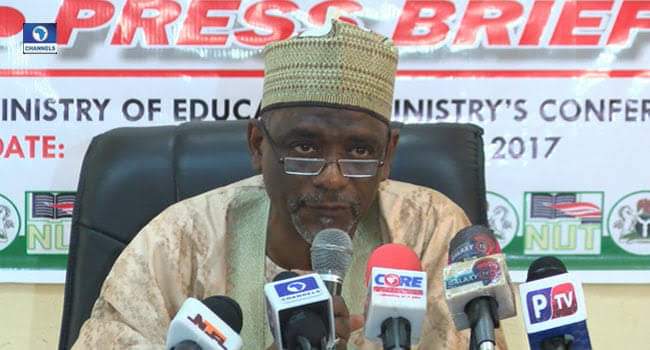 In agreement with the new directive, most Vice Chancellors of private universities who were at the meting, embraced the idea and expressed readiness to reopen because they claimed that they have top grade virtual learning system.
Those physically present with the minister were the Executive Secretary of the National Universities Commission (NUC), Prof. Abubakar Rasheed; the Executive Secretary of the National Board for Technical Education, Dr. Masa'udu Adamu Kazaure; the Executive Secretary of the Universal Basic Education Commission, Dr. Hamid Bobboyi; and the Registrar of the Joint Admissions and Matriculation Board (JAMB), Prof. Ishaq Oloyede among others.
Disclosing that he tested negative to Coronavirus at the session, Adamu said: "We cannot be held down by COVID-19, we have to deploy all e-platforms to keep our universities, polytechnics, colleges of education and other schools open.
"COVID-19 has changed everybody. I am pleading with you to device alternative ways make sure the education of our children will not stop. We have to create virtual learning environment.
"This is the second meeting I am having. All I want is that we should fully engage our students. We are already speaking with the World Bank and UNICEF on how to create platforms for virtual learning classrooms.
"We need to take advantage of technology like the case in other parts of the world. We cannot shut down all schools when we have other means to teach our students."
Responding to a question, the Minister said: "As for the strike action, we will try to resolve issues with ASUU to have synergy.
"But the private universities that are not on strike can start with virtual learning while we are finding solutions to issues between the Federal Government and ASUU."
Although a Vice Chancellor of a second generation university said "the e-platforms cannot replace face-to-face contacts with students," the Minister said: "This is a period we have to make use of the platforms available, we cannot keep students at home."
He also asked the Universal Basic Education Commission (UBEC) to work out modalities on how primary school pupils and secondary students could learn by using radio and television stations.
"We will work out how we can involve state governments to use radio and television stations.
At the session, most of the Vice Chancellors of private universities were excited by the prospect of reopening.
They all admitted that they have "top grade virtual learning system."
A Vice Chancellor of a private university said: "Hon. Minister, you can see why it is necessary to amend the Tertiary Education Trust Fund (TETFund) Act to enable private universities to benefit from intervention funds.
"Other than complying with the directive of the Federal Government, we did not see any reason for closing private universities because we have efficient virtual learning environment."
Vice Chancellor of Federal University, Dutse, Prof. Fatima Bature, said: "We are very strong in virtual learning, we are set for it."
It was not immediately clear when the reopening of varsities online will begin.
Killing, kidnapping of teachers threaten education in Nigeria – ASUSS
Killing, kidnapping of teachers threaten education in Nigeria – ASUSS
The Academic Staff Union of Secondary Schools(ASUSS), has expressed regret over incessant killings, kidnappings and harassment of teachers and students across the country, saying the sordid scenarios were affecting the teachers' productivities adversely.
Despite the situation, ASUSS lauded the Governor of Kaduna State, Mallam Nasir El-Rufai, for employing 7,600 teachers, commending Kano and Adamawa, for legislating on extension members' retirement to 65 years.
The ASUSS' CWC said this in a communique issued after its meeting in Kaduna on Wednesday and made available to newsmen by its National President, Samuel Omaji and Secretary-General, Sola Adigun, who doubles as the Chairman of ASUSS in Ekiti State.
The communique reads: "We appreciate the governor of Kaduna State, Mallam Nasir el-Rufai, for the recruitment of 7,600 teachers into its 9,000 Secondary School Tutors. This is laudable as it is geared towards quality and functional education.
"We commend the government of Kano State for redeploying 11,000 trained teachers in its MDAs to schools to boost teaching and learning. The commendations also go to Oyo, Lagos and Delta States, for the up-to-date promotion of teachers".
In spite of the above incentives to teaching, ASUSS frowned at the insecurity across the country, particularly, incessant attacks on schools, leading to the killing and kidnapping of teachers and students for ransoms.
"That the prevailing insecurity transcends ethnicity and politics; and for the umpteenth time, the union calls on governments at all levels to be sincere in handling security issues as it is their fundamental responsibility".
Killing, kidnapping of teachers threaten education in Nigeria – ASUSS
"ASUSS vehemently frowns at the recent harassment of teachers by students and parents; case studies were Plateau State where a student stabbed a teacher to death and Ekiti State where a police officer came to his child's school with a team of three other policemen to harass the school principal and the teachers, while the police authority has refused to act on ASUSS complaints".
It added further that its members are incurably committed to its objectives of raising future leaders and shall vigorously pursue them for meaningful and robust development of education in Nigeria.
ASUSS urged the National Assembly to expedite action on the bills to energise better welfare packages for teachers, saying dilly-dallying on the passage doesn't correlate with the position maintained by President Muhammadu Buhari
It stated: " Other state governments should emulate Kano and Adamawa States that have gone ahead to legislate on elongation of service for their teachers with immediate implementation of same.
"That the leadership of the union is ready to organize all Secondary schools tutors, to scientifically pursue better welfare, improved terms and conditions of services, to enhance the dignity of members".
ASUSS called on all other states that have allegedly denied teachers their privileges, rights and regular emoluments to do the right thing to alleviate the burdens and pains on members.
Abia Poly Students Protest Over Non Accreditation, Rape Of Three By Police
Abia Poly Students Protest Over Non Accreditation, Rape Of Three By Police
Students of Abia State Polytechnic, Aba, yesterday brought academic activities to a standstill as they took over the Aba-Owerri road in protest over the alleged rape of three female students of the institution by policemen attached to the Rapid Response Squad (RRS), in Aba.
This is even as the students also protested the non-accreditation of the Civil Engineering department of the institution.
Some of the placards displayed during the protest include; "Say no to rape"', "Sell this school and give us our money back", among others.
Abia Poly Students Protest Over Non Accreditation, Rape Of Three By Police
The students of the Department of Civil Engineering lamented that they were being given certificates bearing Department of Building upon graduation and urged the Abia State government and the management of the polytechnic to expedite action to accredit the department to enable them to graduate with certificates bearing Civil Engineering.
On the alleged rape of students by RRS operatives, the students stated that three female students, residing at a Lodge, near the Aba North council headquarters, were raped and taken to an undisclosed hospital in the area. The students lamented that some personnel of the RRS team had been sexually assaulting them at their lodge.
While addressing the protesting students, the Rector of the Polytechnic, Prof. Kalu Osonwa, explained that he got information that the RRS men were assaulting students.
FG bans SS1, SS2 students from participating in WASSCE, NECO, NABTEB
FG bans SS1, SS2 students from participating in WASSCE, NECO, NABTEB
The Federal Government has stopped students in Senior Secondary School one and two from participating in external West African Senior School Certificate Examination, WASSCE; the National Examination Council, NECO; and National Business and Technical Examinations Board, NABTEB.
The development was contained in a circular issued to principals of federal unity schools by the Federal Ministry of Education.
The circular was signed by the ministry's Director, Senior Secondary Education, Hajia Binta Abdulkadir, and confirmed by the Director of Press and Public Relations, Ben Bem Goong, on Friday.
The circular read, "The ministry's attention has been drawn to the flagrant disregard to its directive on (the) writing of external examinations such as NABTEB (NTC and NBC), WASSCE, NECO (SSCE) by SS1 and SS2 students.
FG bans SS1, SS2 students from participating in WASSCE, NECO, NABTEB
"Students who are involved in the practice find it difficult to settle down on serious studies. They become unruly and distract other students from achieving their goals.
"Any student caught to have written any of the above examinations in SS1 or SS2 classes will be expelled from the college. All students must write these examinations after they have been duly registered for the examination by the college.
"All students of Federal Unity College should adhere strictly to the content of this circular. And Principals are advised to bring the content of this circular to the knowledge of all parents of the college."