Student of UNIZIK invents machine that can convert pure water nylon to fuel (Photos)
A recently graduated Nigerian student has been praised for his brilliance after he invented a machine that can convert disposable materials to fuel.
Anthony Obikwelu who graduated from Chemical Engineering, Nnamdi Azikiwe University made the enormous contribution to science in Nigeria after he developed and manufactured the machine which can convert plastic and other waste materials into fuel.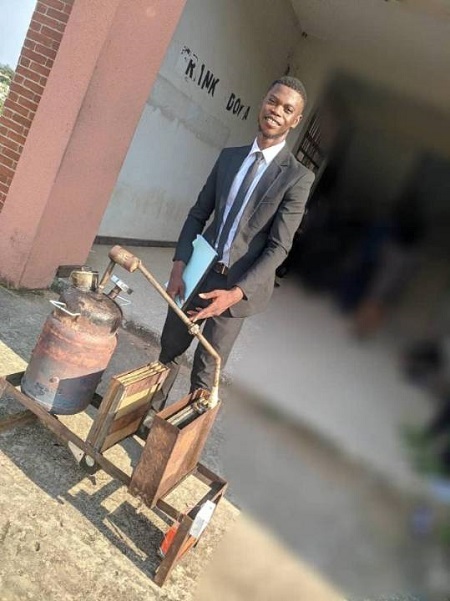 Explaining how the machine works, Anthony wrote:
This machine produces petroleum based fuel (closely diesel) from thermal pyrolysis of waste plastics.
Pyrolysis is the process of heating organic material at high temperatures in the absence of oxygen. Since no oxygen is present, the organic material does not combust. Instead, the chemical compounds that make up the material decompose into combustible gases and char. The produced gases is condensed to give a liquid fuel.
Pyrolysis presents an opportunity to manufacture low- carbon liquid fuels and decrease the emissions of the industry. These fuels are also compatible with our existing transportation infrastructure which eliminates the need to introduce costly new infrastructure. Complete pyrolysis of organic matter usually leaves a solid residue that consists mostly of elemental carbon; the process is then called carbonization.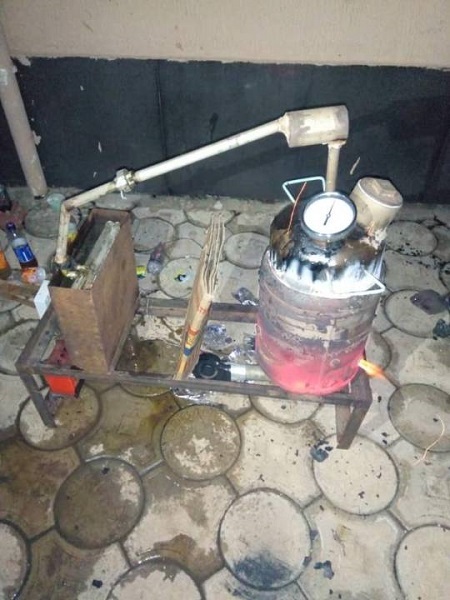 As we all know, Plastic goods and packaging and the inevitable plastic waste resulting from them are found all over the world. Plastic is a relatively cheap, durable and versatile material. However, as waste it constitutes a sizeable percentage of the litter we see every day in public places. It is also non-biodegradable; presents risks to human health and the environment; and some types are difficult to re-use and/or recycle. Almost 100 million tons per annum are produced every day. So the process of pyrolysis of plastics is attempted to reduce the waste plastics and to find a source for alternative fuel.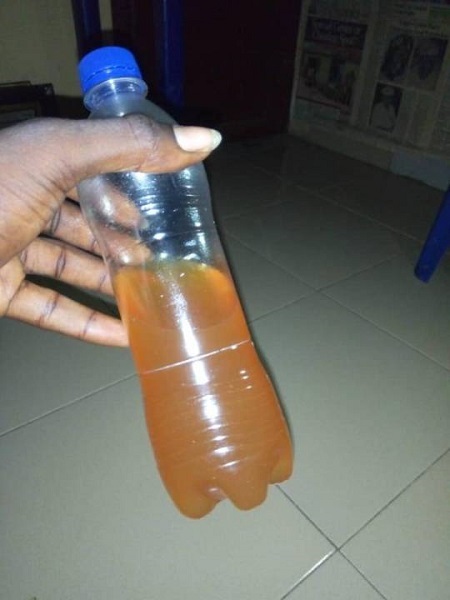 This is really quite an invention as it solves the problem of cost of mining oil. It would help reduce the emision of harmful waste matters into the air which affects our ozone layer. It will prevent issues of oil spilliage and ocean pollution. It'll also create direct and indirect employment as plastics and other waste materials would be sourced for, thereby creating an avenue through which people can earn a living.
Right now, the only hindrance to this machine is that it needs funding from the government, so it can be developed into a large scale model where millions of litres of oil can be produced daily.
He can be contacted via email on Tonytopaz1@gmail.com or Facebook with the name Anthony Obikwelu.
2020/2021 UNIZIK POST UTME: Candidates to upload their O'level results (See How)
NNAMDI AZIKIWE UNIVERSITY, AWKA
2020/2021 UNIZIK POST-UTME/DE CANDIDATES O'LEVEL RESULT UPLOAD
This is to inform all prospective UTME/DE candidates of Nnamdi Azikiwe University and all her affiliate institutions who have successfully registered for the 2020/2021 Post-UTME/DE screening examination to visit the University website Portal.unizik.edu.ng and upload their O' level result/s.
The exercise will last for only two (2) weeks from Friday 26th February, 2021 to Wednesday 10th March, 2021.
To upload the O' level result/s follow the guidelines below:
On the login page:
Enter your JAMB reg number as your username
Enter your phone number as the password. (the exact number you used in registering for the Post-UTME)
If you cannot remember the phone number you used during your Post-UTME application, click on "recover password" and enter in the email address you used during your Post-UTME registration. If also you do not remember same, send a request to support.unizik.edu.ng for a recovery of your login details.
After logging in:
Go to Results ( Add results
On the Add Results page, fill in your Exam Name, Year, Center Name and Exam Number and click on Continue
on the next page, fill in the results you got for your O' level examination and click on Submit Form to upload your submitted results.
Repeat same process if you wish to submit another result (Note that you are only permitted to submit two results)
(please note that any false information submitted could automatically disqualify you)
Click on upload result to upload the scanned copy of your original result
To view, edit, or delete submitted results, click on Results then click on My Results
To edit, click on the Edit icon under Actions, and to delete, click on the Waste bin icon under Action
To print out a copy of your submission, click on Dashboard, then click on the Print icon at the top-right corner. This will take you to a page listing your details plus all submitted results. Click again on the Print icon to print the displayed document.
To log out, click on the Logout button.
Signed
Barr. Philomena Okoye
REGISTRAR
Uniabuja Students Beat Lecturer After Exams (Video)
Uniabuja Students Beat Lecturer After Exams (Video)
According to eye-withness (name withheld), a university of Abuja banking and finance lecturer was beaten today after exams by students of his department for collecting answer scripts after 45 miniutes for a 3 hours exams…
Exam that was suppose to commence and last for 3 hours was cut shut to 45 minutes for no reason at all, so that provoked the students into unleashing mayhem on the lecturer who was beaten black blue…
Watch video below…
Kwara Is Muslim State, Take Your Missionary Schools To Rivers – Islamic Group Warns
The Muslim Rights Concern (MURIC), has warned that it would not fold its hands and watch Muslim students being persecuted in Kwara State.
MURIC said that Kwara is a predominantly Muslim State, advising missionary school owners to take their business to Rivers State instead of trying to change the identity of Muslim children by force, adding that Governor Nyesom Wike is waiting with open arms to accept them..
The group was reacting to the hijab imbroglio going on in the State, wherein some public school teachers were said to have forced female Muslim students to remove their hijab within the school premises.
The development has generated controversy across the State, leading to the closure of ten schools by the State government.
Wading into the matter, MURIC has vowed to take all necessary constitutional measures to stop the oppression of innocent female Muslim pupils across Kwara State.
The position of the Islamic human rights group was contained in a statement issued by its director, Professor Ishaq Akintola.
According to MURIC, "On our own part, we will not allow… evil to prevail in Kwara as they did in some states in the South West on the issue of hijab.
"The authorities of those ten missionary schools should be ashamed of behaving like oppressors and slave masters.
"Yes. We say it boldly, loudly and clearly. Kwara is a predominantly Muslim state. It is absolutely absurd for any group to think it can subject Muslim children to oppression in such a place. Infra dignitatem.
"Take your missionary schools to Rivers State if you want to change the identity of Muslim children by force. Nyesom Wike is waiting with open arms to accept you.
"Afterwards he has illegally declared his state a Christian state in violation of and to the chagrin of Section 10 of the 1999 Constitution of the Federal Republic of Nigeria. But not in Kwara State."
The group called on Kwara State Governor, AbdulRahman AbdulRazaq to shun all illegal, illegitimate and unconstitutional compromises that could provoke Kwara Muslims in the State.
The Islamic rights advocacy group said it would not surrender its fight but would take all necessary constitutional actions to ensure that female Muslim students used their hijab.
Source – Daily Post